JAIA Imported-brand xEV Promotion Event in Kobe (July 14-15, 2023)
On July 14th and 15th, 2023, the Japan Automobile Importers Association (JAIA) held the "JAIA Imported-brand xEV Promotion Event in Kobe" at Akashimachi-suji street of the Former Foreign Settlement of the City. This event was the exhibition of imported electric vehicles for the general public organized by JAIA. With the participation by ten four-wheeler importers, one motorcycle importer, ten charging and recycling companies, and one regional collaboration company, the latest lineup of imported electric vehicles and charging-related businesses gathered together.
At the same time, it was JAIA's first initiative to exhibit an electric vehicle for the general public.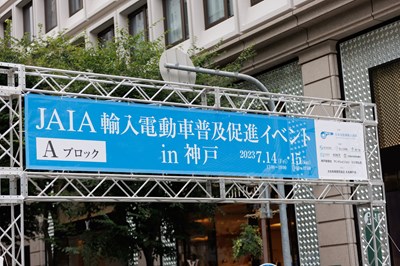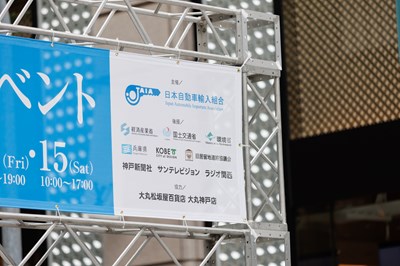 We received extensive support from METI, MLIT, MOE, Hyogo Prefecture, Kobe City, Kobe Shimbun, Sun Television, Radio Kansai, and the Council of Former Foreign Settlement. We would like to express our gratitude to the local businesses and the Ikuta Police Station for their cooperation in holding this event.
28 units from 10 four-wheeler importers, 3 units from 1 motorcycle importer, 7 booths from 10 charging/recycling companies, and 3 units from 1 regional collaboration project were showcased. Exhibitors are as listed below.
<List of Exhibitors>
-Four-wheeled vehicle importers: 10 companies, 28 units
BMW, BYD Japan, Hyundai Mobility Japan, Jaguar Land Rover Japan, McLaren Automotive Asia, Mercedes-Benz Japan, Porsche Japan, Tesla Motors Japan, Volkswagen Group Japan (Audi Division), Volvo Car Japan
-Motorcycle importer: 1 company, 3 units
Plot
-Charging/recycling companies: 10 companies/7 booths
DOWA ECO SYSTEM, ENECHANGE, Enegate, IHI Transport Machinery, JFE Technos, Matsuda Sangyo, Nichicon, Panasonic, Shindengen, Takaoka Toko
-Regional cooperation: 1 project, 3 units
Kawasaki Motors Japan
It has been an event that not only raises awareness of imported xEVs, but also that is conscious of issues related to electrification, such as charging infrastructure and battery recycling. Eight charging-related companies and two battery recycling-related companies also exhibited.
Some of the exhibited vehicles (imported four- and two-wheelers, regional cooperation) and charging/recycling company booths are shown below:
Exhibitions-1: Four-wheelers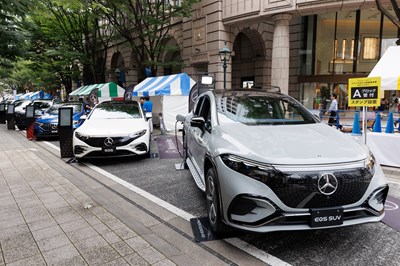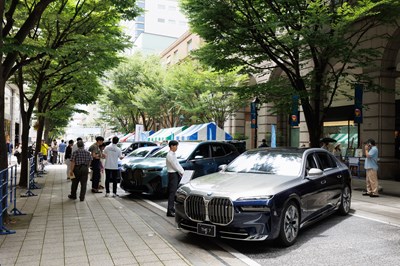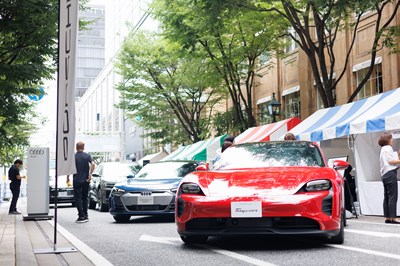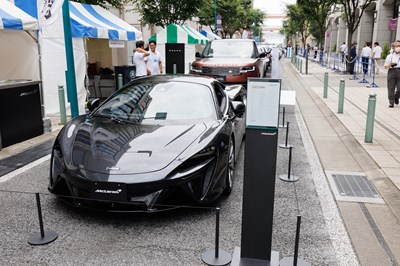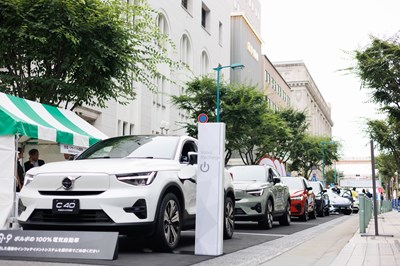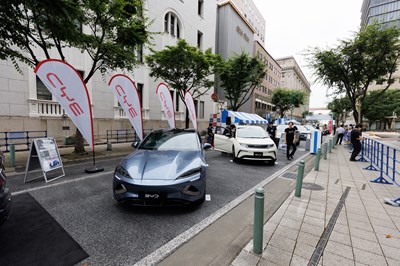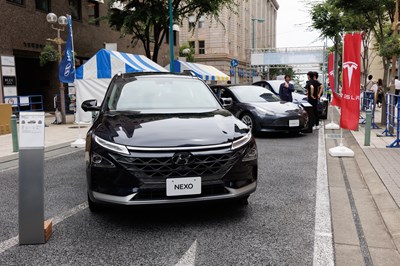 Exhibitions-2: Motorcycles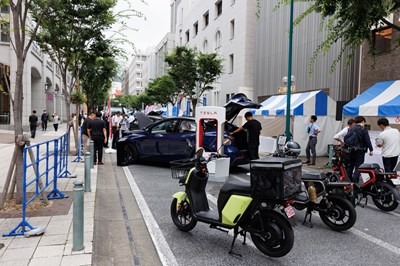 Exhibitions-3: Regional cooperation
With the cooperation of the Sumitomo Mitsui Banking Corporation Kobe Branch, Kawasaki Motors Japan's electric motorcycles and other products were exhibited in the space in front of the Bank as a regional collaboration booth.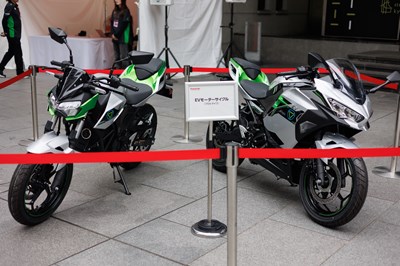 Exhibitions-4: Charging/recycling companies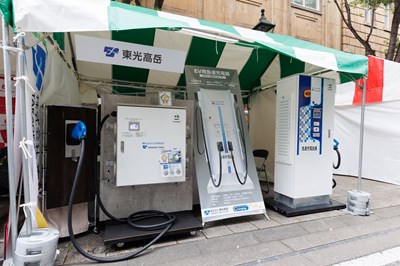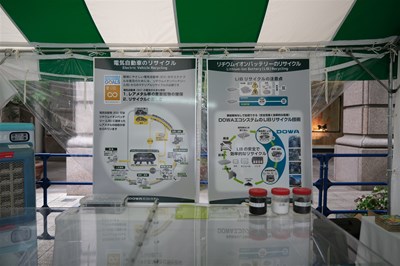 JAIA members have actively expanded the lineup of xEVs. As a result, sales of EVs and PHEVs expanded rapidly in 2022. Their sales steadily grew, with the number of newly registered EVs reached 14,341, surpassing 10,000 for the first time. Thanks to JAIA members actively introducing xEV models and purchase subsidies by governments, in 2023, their sales are expected to further increase.
On the other hand, as an example of other countries, in Germany, the ratio of EVs to new passenger car sales is steadily increasing to about 17.7% in 2022.
Under these circumstances, JAIA, acting as a platform to promote the spread of imported xEVs, held events in 2021 and 2022 to promote the spread of imported-brand xEVs and test-ride events in an attempt to raise their awareness among the public. At this year's exhibition event, the latest xEVs imported by JAIA members were brought together on public roads in the former foreign settlement, focusing on improving awareness of xEVs and the issues related to electrification (charging infrastructure, auto mechanic HR, recycling, etc.), in an attempt to show the forefront of sustainable mobility widely to the general public.
The Kansai area, including Osaka, where the event was held, is an important area that occupies 4 prefectures (Hyogo, Osaka, Nara, and Kyoto) out of the top 6 prefectures that have a high share of foreign-brand cars in registered vehicle category. The event was intended to raise awareness of the imported-brand xEVs in the area as well.
At the opening ceremony on Day 1, following a speech by Chairman Ueno, METI (Mr. Tanabe, Director of Automobile Strategy Planning Office, Automobile Division, Manufacturing Industries Bureau), Hyogo Prefecture (Mr. Suga, Chief Executive Officer for Environment), and, City of Kobe (Mr. Kashiwagi, Director-General of the Environment Bureau) gave greetings as guests.
JAIA Imported-brand xEV Promotion Event in Kobe; Opening ceremony (Ribbon cutting/photo session)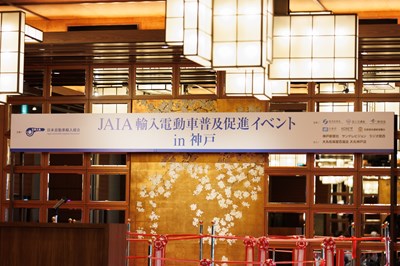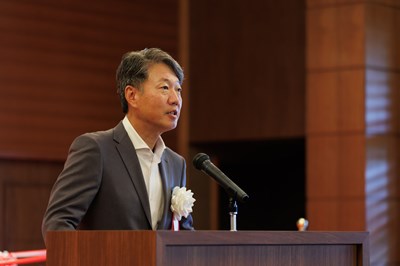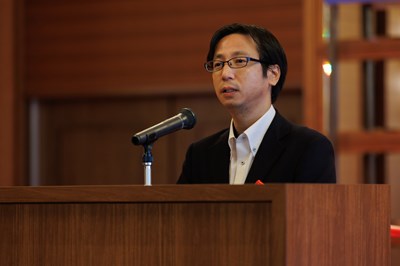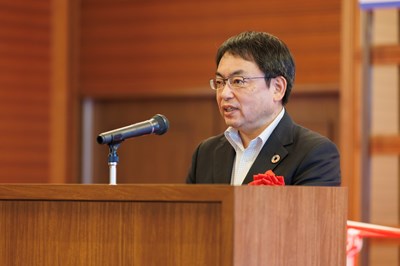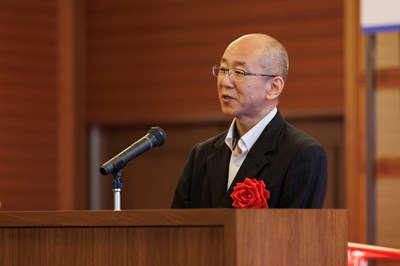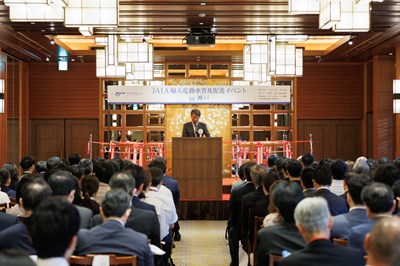 →Click here for organizer and guest greetings
A ribbon cutting and photo session were also held at the ceremony.
Ribbon cutting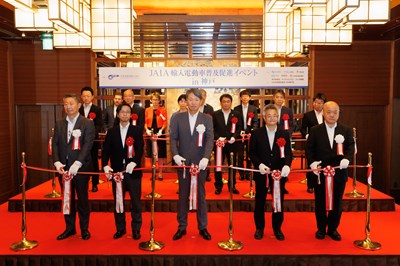 Photo Session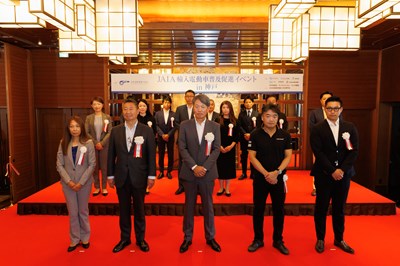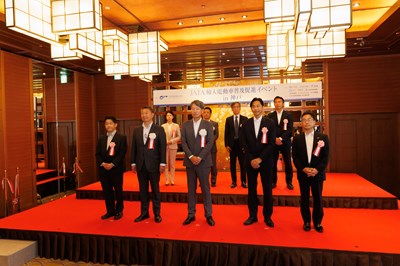 JAIA Imported-brand xEV Promotion Event in Kobe was attended by 34 reps of 20 media – TVs, newspapers, web and others – and covered in print and the web (Kobe Shimbun, Asahi Shimbun, Sankei Shimbun, Yomiuri Shimbun, Nihon Keizai Shimbun, Nikkan Jidosha Shimbun,Nikkan Kogyo Shimbun, Sun Television, TV Osaka, etc.).
[Reference: Media coverage examples]
-Newspapers (electronic version)
Kobe Shimbun (in Japanese)
URL:https://www.kobe-np.co.jp/news/keizai/202306/0016499386.shtml
URL:https://www.kobe-np.co.jp/news/keizai/202307/0016583780.shtml
URL:https://www.kobe-np.co.jp/news/keizai/202307/0016586034.shtml
Radio Kansai (in Japanese)
URL:https://jocr.jp/raditopi/2023/07/15/516774/
・YouTube
Kobe Shimbun (in Japanese)
URL:https://youtu.be/nXUmkPfbBBY
Sun Television (in Japanese)
URL:https://youtu.be/wLBDTF1yxjE
In conjunction with the event, on July 14, a round-table conference was also held for auto mechanics vocational schools (Nihon Science and Information Technology Professional Training College, Osaka Sangyo University, Hanshin Institute of Technology, YIC Kyoto College of Technology) and JAIA members. Prior to the meeting, there was a greeting from the MLIT (Mr. Tada, Director of the Maintenance Service Division, Land Transport Bureau), and an explanation of the subsidy system that can be used by sales companies, etc. from the Organization for Small and Medium Enterprises and Regional Innovation, Japan.