JAIA Chairman's Press Conference Speech, July 2023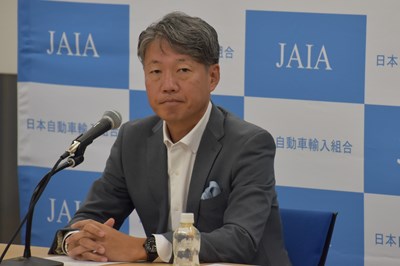 1. Opening remarks
In recent years, amid the increasing momentum for the realization of carbon neutrality, JAIA member companies are taking on the challenge of solving new problems that accompany the progress of technological development in order to provide Japanese customers with a wide variety of imported vehicles from all over the world equipped with cutting-edge safety and environmental technologies, including electrically chargeable vehicles. We will do our utmost to revitalize the Japanese motor vehicle market and contribute to the development of a sustainable mobility society in Japan by delivering imported cars with various appeals to Japanese customers.
2. Review of imported car sales in the first half of 2023
Regarding the overall domestic motor vehicle market in the first half of 2023, the number of registrations was about 1.56 million, which was on a recovery trend, surpassing the previous year.
On the other hand, for the imported-brand vehicles, although a record high figure was posted by four foreign brands, in the first half of 2023, the total number of imported vehicles sold decreased by 0.6% compared to the first half of 2022 to 153,034 units.
Meanwhile, imported BEVs have continued to perform well since last year, posting positive year-on-year figures for 11 consecutive months since August 2022. The number of imported-brand BEVs registered in the first half of 2023 was 9,239 units, an increase of 77.9% compared to 5,192 units in the first half of 2022. For the results of the first half, it has increased for five consecutive years since 2019, and the 20,000-unit mark is in sight for the entire year. We believe that this is the result of government subsidies and various other support measures and the expansion of the BEV lineup to 95 models of 16 brands in an attempt by the member companies to meet the needs of customers.
3. Outlook for imported car sales in the second half of 2023
Regarding the effects of the long-standing shortage of semiconductors, the situation varies depending on the member importer, but we believe that it is generally on a recovery track. JAIA member companies are facing issues such as rising raw material prices, but we will continue to make efforts to minimize the impact to Japanese customers.
In addition, in the 2023 tax reform outline, in consideration of the current situation, it's been announced that the Eco-car Tax Incentives and the environmental performance levy, will be maintained until the end of 2023, and the current preferential measures foe EVs, etc. will be left unchanged by three years. These measures were made possible by the authorities carefully listening to the requests of the industry, including JAIA, and we welcomed them.
Regarding electrified vehicles, in addition to tax incentives, they are receiving subsidies and other support from the government, and we expect that the number of units sold will increase further as our member companies actively introduce electrified vehicle models into the Japanese market.
JAIA will strive to make EVs feel more familiar to customers by communicating the appeals of imported EVs to customers, providing them with a wide lineup, and also holding events and others.
It is important to put in place the right conditions for electrified vehicles, including charging infrastructure, while seeking support from the government, such as continuous purchase subsidies in a wide and seamless manner for all lineups.
We hope that the steady growth of EV sales will further invigorate the imported car market, and that the overall sales volume of imported cars will approach the pre-corona level.
4. Key activities of JAIA
●Activities for market revitalization, Activities related to the environment and energy
First, I would like to explain our activities related to market revitalization and the environment and energy fields. I would like to first introduce JAIA's initiatives for electrified vehicle as an activity spanning the two fields. At JAIA, in order to further spread electrified vehicles, we are focusing on four areas: (1) In addition to requesting the government to grant subsidies, etc.; (2) holding events to promote the spread of electrified vehicles; (3) putting in place right conditions for charging infrastructure, such as deregulation of charging voltage, etc.; and, (4) recycling lithium-ion batteries.
First of all, I would like to thank the government for its continuous and seamless implementation of measures to subsidize the purchase of electrified vehicles. As I mentioned earlier, thanks to the subsidy, the number of imported EVs registered in the first half of 2023 was 9,239, an increase of about 1.8 times compared to the first half of 2022.
Next, I would like to introduce our efforts to raise awareness of imported electrified vehicles. JAIA has been acting as a platform to promote the spread of imported electrified vehicles since 2021. On July 14 and 15, we held the "JAIA imported-brand xEV promotion event" in Kobe, which is one of the leading fashion epicenters in Kansai. 10 four-wheeler importers exhibited 28 vehicles and 1 two-wheeler importer showcased 3 motorcycles. Making it different from our last year's event, it was an opportunity for not only government officials and media people, but also the general public to directly learn about the appeal of imported electrified vehicles. Furthermore, in an attempt to share with visitors the issues that JAIA faces in electrification, we also set up exhibition booths for 8 charging infrastructure companies and 2 recycling companies, in addition to organizing a social gathering for our members and dealers with automobile vocational schools that train auto mechanics.
About the future, based on discussions within JAIA, while being aware of the challenges of electrification, we will consider implementing promotional activities to raise awareness of electrified vehicles by devising venues and formats in cooperation with charging companies, etc. and with the cooperation of related organizations such as ministries and local governments.
JAIA member companies are also planning to participate individually at the Japan Mobility Show, which will be held in Tokyo from October 26, and JAIA also plans to set up a booth with the participation of the members so that visitors can learn about the appeal of electrified vehicles. Please look forward to it as well.
For the spread of electrified vehicles, it is necessary to have a charging infrastructure that is easy for anyone to use. METI has set up a public-private liaison committee to formulate a roadmap for charging infrastructure toward 2030. JAIA has great expectations for the discussions at this panel.
JAIA has always dealt with charging infrastructure as an important issue, but recently, in order to address a wide range of issues related to charging infrastructure, we have set up a cross-sectional team within JAIA and are proceeding with studies.
The JAIA Secretariat explained this at the recent METI study group meeting, we are grateful for the various efforts of the parties concerned. We believe that it is necessary to further expand the charging infrastructure, including quality and quantity, in addition to increasing the capacity of charging at/near home, on the way and at destinations.
Looking ahead to 2030, we believe that it is necessary to make forward-looking investments in technology development, etc., in both vehicles and charging infrastructure, and to swiftly and accurately promote efforts toward higher voltages.
From this perspective, we are now receiving support from the government, but we believe that continuous and seamless support such as subsidies is necessary. At the same time, it is necessary to create conditions to promote the installation of chargers in public parking lots and apartment housing, as seen in the case of Tokyo. It is important that it is rolled out not only in Tokyo but also in other regions. We are asking for the support of the parties concerned to advance the installation of chargers in existing apartment houses and existing mechanical parking lots.
To give more specific examples, important issues include support for increasing the output of ordinary chargers, such as granting subsidies to ordinary chargers exceeding 6 kW, and the preparations for the relaxation of voltage regulations related to higher voltages that will enable ultra-fast charging.
We hope that the charging infrastructure on expressways will be improved in terms of both quality and quantity, enabling faster charging. Furthermore, we are requesting that a system of temporary exit from the expressway to use EV chargers nearby be realized, and that a mechanism be introduced in a way that reduces the burden on charging companies.
Further, when thinking of higher voltages, it is important to consider how to deal with the issue of standards. We are also keeping a close eye on moves in other countries.
In the recycling field, we will support member companies in appropriate recovery of lithium-ion batteries. A task force launched at JAIA in the beginning of the year will collect overseas information such as European battery regulations, cooperate with domestic business operators, etc., and proceed with consideration for appropriate recycling and reuse of lithium-ion batteries, while also referring to domestic information such as the moves of the Japanese government.
Next, I would like to present our initiatives other than electrified vehicles. First of all, regarding the request for tax reform, JAIA will continue requesting further reduction of the excessive auto-related tax burden and the simplification and fairness of the tax system. In particular, until the spread of electrified vehicles in the Japanese market is sufficiently on track and reaches the same level as other countries in accordance with the carbon neutral policy, we will ask the government to continue to provide policy support to ensure that all electrified vehicles enjoy tax benefits.
In the field of environment and energy, the 2030 fuel efficiency standard for passenger cars will require a significant improvement of 44.3% on average fuel efficiency compared to the 2020 standard. JAIA will continue to request the introduction of flexible measures such as off-cycle credits to evaluate energy-saving technologies that improve actual fuel efficiency and encourage their spread.
●Activities related to safety and harmonization of regulations
Now, let me move on to the activities to harmonize safety and regulations so JAIA member companies can smoothly introduce in the Japanese market advanced vehicles that are compatible with the ever-advancing technology.
First, in order to provide Japanese consumers with imported cars with assured safety and environmental performance without incurring additional costs, we have been working with relevant authorities for many years to internationally harmonize regulations and utilize the system of mutual recognition of vehicle certification based on the United Nations 1958 Agreement. As a result, IWVTA, International Whole Vehicle Type Approval, was established in 2018.
The IWVTA system has been expanded year by year, including the official addition of UN-R154 related to emissions, fuel efficiency, and electricity consumption in June this year. It is now possible to acquire IWVTA, which includes type approval for major safety and environmental devices of passenger cars. JAIA will continue to work toward the realization of more complete IWVTA through such activities as further promoting international harmonization of vehicle regulations.
In terms of other safety technologies, with the approach from JAIA as one of the triggers, a new UN regulation (UN-R166) – which was being worked on by UN WP29 – has been officially put into effect in June this year, which replaces Japan's original standards for immediate front and left visibility requirements. JAIA will continue to make requests to the government as necessary so that the remaining Japanese original standards will be resolved by international harmonization through JASIC activities, etc. In addition, our member companies will gradually expand the introduction of vehicles equipped with high-performance AEBS, lane keeping/departure prevention devices, and high-performance headlights into the market.
Furthermore, from July this year, the regulations for cyber security (CS)/software update (SU) for in-vehicle systems, which will become increasingly important in order to ensure the safety of connected cars, are fully applied to imported cars. Concerning the conformity certification related to CS/SU management ability that is used when applying for permission to modify the program of existing vehicles, which was stipulated to be required in Japan and overlapped with overseas. As a result of JAIA's request to the MLIT, streamlining has been achieved by eliminating the need to acquire certificates twice. JAIA will continue to promote activities aimed at rational and efficient operation of the new CS/SU regulations through dialogue with the Ministry. Our member companies are determined to cooperate with each OEM and respond appropriately to these new regulations.
In addition, through the WG related to the field of communication, efforts will be made to grasp the trends of telecommunication equipment and communication infrastructure installed inside and outside automobiles, and we will work on international cooperation on frequencies and communication methods.
Regarding automated driving technology, we will continue to collect information on the Automated Driving Business Study Group, SIP-adus, and its successor programs.
While promoting such initiatives, we would like to contribute to the provision of greater safety and convenience to our customers.
●Activities in the fields of automobile fair trade and after-sales, etc.
Next, I would like to explain our activities in the fields of automobile fair trade and after-sales.
Regarding fair trade in automobiles, JAIA actively participates in the working group of the Automobile Fair Trade Council, and continues to promote activities aimed at ensuring that JAIA members are fully aware of the Automobile Fair Competition Code and ensuring fair trade.
In the after-sales field, JAIA will continue to ensure that member companies comply properly with laws and regulations, such as electronic vehicle inspections introduced in January this year, new trends accompanying the development of connected technology, vehicle inspection systems that utilize on-board diagnostic equipment, and recall-related procedures.
In recent years, the shortage of auto mechanic personnel has become an even more pressing issue shared by the auto industry. In September 2022, JAIA also set up an information liaison committee for auto mechanic human resources, proceeding five specific activity areas, which are namely: "Approaches to the government on the institutional aspect"; "Collaboration between JAIA members/dealers and automobile maintenance vocational schools"; "Sharing best practices at dealers, etc."; "Considering the utilization of foreign national human resources"; and, "Providing information on the utilization of systems such as subsidies related to repair shops".
At the event in Kobe, which I mentioned earlier, we held a social gathering between the schools, JAIA members, and dealers as a way to strengthen the cooperation between the mechanic training schools and the member companies. We also organized the event from the perspective of increasing the number of young people interested in imported cars.
I talked about the five areas of activity earlier, and we will be more specific in the future. For example, when considering how to utilize foreign national human resources, we conducted a survey of dealers through the liaison meeting council. It was revealed that the majority of the companies has already hired or are planning to hire foreign mechanics. Regarding the utilization of foreign national resources, the government is also reviewing the status of residence. JAIA is also paying attention to the fact that the automobile maintenance field is also moving in the direction of allowing people to stay indefinitely if they meet the new conditions. Concerning the improvement of conditions for the utilization of foreign human resources, in the future, we intend to take proactive actions to respond to the needs of members, such as holding ad-hoc information sessions, mainly through the liaison council. We also intend to consider PR activities that will allow everyone, including young people, to understand the appeal of imported car maintenance.
●Motorcycle activities
Finally, I would like to talk about our activities related to motorcycles, which is the fifth pillar of our main activities.
The number of new registrations of imported small motorcycles in the first half of 2023 was 13,925 units, an increase of 7.3% compared to the same period of the previous year (12,976 units), and an increase for the fourth consecutive quarter.
In this background, people paid attention to the wide variety of unique imported motorcycles as tools suited for hobby, and as "a means of transportation that can avoid the 3 Cs", or as a "way of play that does not become crowded" for "a touring camp that can be enjoyed alone by avoiding Cs", due to the influence of the corona.
Now, one of the major pillars of motorcycle activities is "activities for revitalizing the market." As part of this, on April 12th and 13th of this year, we held a test-ride event for imported motorcycles at Oiso Long Beach. We were able to successfully implement the event upon thoroughly taking corona countermeasures without any major accidents. Total of 157 people from representatives of 54 media participated in this event.
Also, for three days from April 7th to 9th, the 2nd Nagoya Motorcycle Show was held at the Aichi Sky Expo. JAIA provided nominal support, and 8 JAIA motorcycle members exhibited. For riders who use motorcycles to visit the event, an unlimited ride plan for expressway tolls was offered and the dedicated motorcycle parking lot at the venue was expanded. Also, as in the previous event, free admission for high school students and younger and women further attracted visits by young people and families. A total of 42,355 people visited, against the target of 40,000.
Furthermore, at the event in Kobe, which I mentioned earlier, we exhibited three electric motorcycles. The event also featured a framework for regional cooperation. Kawasaki Motors Japan in Hyogo Prefecture, which is a JAIA member, also exhibited electric-related products manufactured at the local Akashi factory.
We are also planning to participate in the 11th BLF (Bike Love Forum) in Hamamatsu City, Shizuoka Prefecture on September 8th, which is led by the METI to discuss the future of motorcycles.
JAIA is requesting the independence of expressway tolls for motorcycles, expansion of motorcycle parking lots, and a review of the motorcycle license system. In collaboration with other organizations centering on the BLF, etc., we carried out request activities for the independence of expressway toll classification and toll optimization at the motorcycle-related project teams of the government and political parties, and at study meetings, etc. As a result, since April this year, road operators (NEXCO East Japan, etc.) have implemented a "motorcycle fixed rate discount" that discounts the toll at a fixed rate for motorcycles equipped with ETC units when using expressways on weekends and holidays, continuing from last year.
Regarding the other pillar of motorcycle activities, "activities for international harmonization of regulations", we will continue to provide support for noise regulations, compliance with lighting equipment standards, and acquisition of PHP notification system.
JAIA will continue to work on spreading imported motorcycles and revitalizing the domestic motorcycle market.
5. Closing
JAIA member companies will continue to provide attractive imported vehicles with excellent environmental and safety performance, and JAIA will cooperate with the Japanese government, the automobile industry, and all organizations involved in sales to reduce the burden on users and contribute to the realization of a carbon-neutral society.